Iwan Tanzil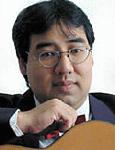 Lives in Berlin, Germany


Iwan Tanzil was born in 1963 in Jakarta, Indonesia and comes from a Chinese/ Dutch family.


As a child he received piano and cello lessons. He started playing the classical guitar at age 14.


In 1983 he began his studies in classical guitar at the College of the Arts in Berlin (Hochschule der Künste Berlin).


He graduated in 1988 and received concert-diploma in 1991, both with honors.


In 1989 he was the first winner of the guitar competition "24. Concorso Internazionale La Conquista della Chitarra Classica" in Milan, Italy.


Tanzil has been a guest performer at over 10 national and international guitar festivals.


He has published his arrangements / compositions and has edited modern guitarworks by other composers at Edition Margaux (Berlin) and Vogt und Fritz (Schweinfurt).


Discography:


1. Iwan Tanzil plays Terzi, Giuliani, Rodrigo und Koshkin - (1991 Blackbird Records)


2. Promenade: Works by Zenamon, Flores, Chung, Domeniconi, Koshkin, Schubert und Bredemeyer - (1993 Classic Studio Berlin)


3. Guitarra Poetica: Works by Piazzolla, Brunn, Zenamon, Heyn, Domeniconi, Tanzil und Chung - (1996 Kreuzberg Records)


4. Heitor Villa-Lobos: Complete guitar works (2000 Kreuzberg Records)


*CD 1-4 distributed by AMA Verlag, Brühl


5. Compilation CD: Ein Duft von Licht ( Works by Lorenz Schmidt) - 2001 Vogt & Fritz Sound)


6. VCD: Iwan Tanzil: The art of classical spanish guitar / live in Jakarta 2002 - (2002 Multimedia-creation, Jakarta, Indonesia)